PACIFIC FM-17DS & FM-20DS DUAL SPEED FLOOR MACHINES
Rugged construction has been in Pacific's floor machine DNA since the company's origin. With this heritage and experience as its foundation, Pacific's line up also brings new ingenuities to the industry's most essential tool. From the industry's first "safe start" indicator to its less than 58 dBa noise levels and an instantly adjustable handle, Pacific's floor machines are Purpose Built® to be a a step above the rest.
First-ever "safe start" indicator helps eliminate "taking off" at start-up
Instant adjustment from handle – no hard knobs or awkward levers
Unique and rugged wrap around cord clamp and flare strain relief
Dual Speeds: 175 rpm & 300 rpm

THE PACIFIC FM-17DS & FM-20DS FLOOR MACHINES ARE PURPOSE BUILT ™ FOR:
Floor scrubbing
Finish stripping (with chemical)
Light buffing
Carpet bonneting
Sanding and screening
Many other project work tasks
The Pacific FM-17DS & FM-20DS Floor Machines are highly flexible tools for your floor care regimen.
PACIFIC
FM-17DS & FM-20DS Specifications
Pacific FM-17DS & FM-20DS Dual Speed Floor Machines

Model number
FM-17DS Dual Speed
FM-20DS Dual Speed
Part number
535421
535431
Pad Drive System
Motor horsepower:
1.5 hp
1.5 hp
Motor type:
66 FR, AC
66 FR, DC
Gear box:
Triple-planetary
Triple-planetary
Pad speed rpm:
175 rpm / 300 rpm
175 rpm / 300 rpm
Pad diameter:
17 in
20 in
Equipped with pad driver:
No
No
Productivity (per hour)*:
1,925 ft2
2,220 ft2
Electrical System
Voltage:
115 V
115 V
Power consumption amps:
15 amp
15 amp
Power cord length / type:
50 ft, 14/3 STO, safety yellow
50 ft, 14/3 STO, safety yellow
Safety approvals:
ETL tested to UL/CSA standards
ETL tested to UL/CSA standards
Machine Specifications
Product length:
22 in
26 in
Product width:
18 in
21 in
Product height:
45 in
45 in
Product weight (w/cord):
77 lb
82 lb
Sound level (operator's ear):
< 68 dBA @ 175 rpm
< 72 dBA @ 300 rpm
< 68 dBA @ 175 rpm
< 72 dBA @ 300 rpm
Base construction:
Dual-wall, rotationally molded impact resistant polyethylene
Dual-wall, rotationally molded impact resistant polyethylene
Handle construction:
Welded structural steel tubing
Welded structural steel tubing
Safety interlock on triggers:
Yes
Yes
Vertical handle safety lockout:
Yes
Yes
Handle construction:
Welded structural steel tubing
Welded structural steel tubing
Handle adjustment:
Lever at operator position near triggers
Lever at operator position near triggers
Warranty
Base:
10 years
10 years
All other components**:
3 years
3 years
Labor:
1 year
1 year
*Productivity from the ISSA 540 cleaning times handbook
**Excluding wear items
Note: Specifications subject to change without notice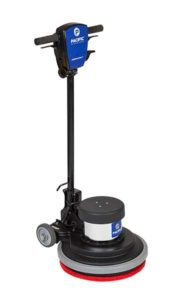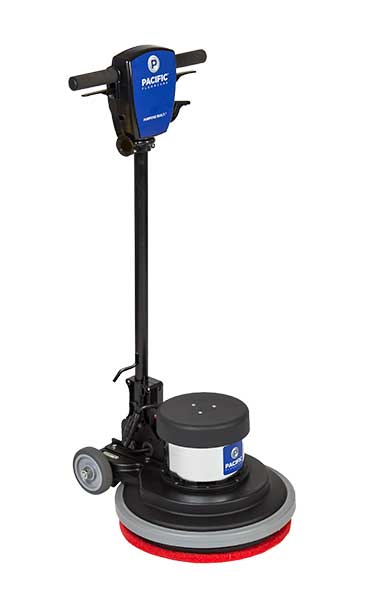 Models Pacific FM-17DS shown
FM-17DS Available Accessories

Part Number:
Description:
500922
Brush, bassine scrub, 17 in
500972
Brush, nylon carpet, 17 in
500912
Brush, polishing, 17 in
500962
Brush, poly, 17 in
505903
Pad Driver, Mighty-Lok™, 17 in
505913
Pad Driver, Tri-LokTM, 17 in
555904
Pad 17" Black strip, case of 5
555954
Pad, 17" White polish, case of 5
555964
Pad, 17" Turf, case of 4
500202
Sanding adapter assembly, 17 in
535001
Solution tank assembly, 4 gal
FM-20DS Available Accessories

Part Number:
Description:
500924
Brush, bassine scrub, 20 in
500974
Brush, nylon carpet, 20 in
500914
Brush, polishing, 20 in
500964
Brush, poly, 20 in
505905
Pad Driver, Mighty-LokTM, 20 in
505914
Pad Driver, Tri-Lok

 

™, 20 in
555906
Pad 20" Black strip, case of 5
555956
Pad, 20" White polish, case of 5
555966
Pad, 20" Turf, case of 4
500202
Sanding adapter assembly, 20 in
535001
Solution tank assembly, 4 gal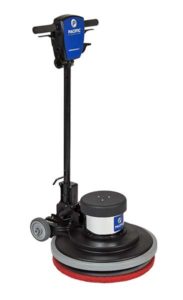 Models Pacific FM-20DS  shown