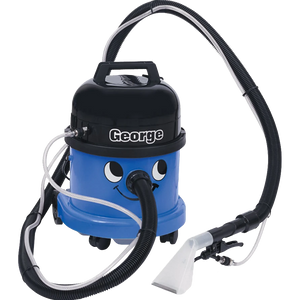 Nacecare George Extractor / Spotting Machine
An ideal choice for vehicle detailing, upholstery cleaning, and spot cleaning, the NaceCare GVE 370 George Wet/Dry Vacuum Cleaner features a powerful 1.3 horsepower for tackling the toughest of messes. With 100 inches of water lift and a 30 psi pump, it provides superior water recovery. Lightweight and maneuverable, it's a must-have tool in your cleaning arsenal.
Spot Cleaning Made Easy
Quickly clean messes on upholstery, in cars, and more with the NaceCare GVE 370 George Wet/Dry Spot Cleaner and its impressive features.
Powerful Vacuum Performance: 

Its 1.3 horsepower motor provides the power you need for nearly any cleaning task.

Reliable Motor: 

The motor features 100 inches of water lift and creates an airflow of 95 cubic feet per minute (CFM).

Water Recovery:

 A 30 psi pump provides superior water recovery without over-wetting fabrics.
Durable and Maneuverable
With its polypropylene tanks, the NaceCare GVE 370 is designed to withstand the rigors of daily use. Weighing only 19 pounds and featuring easy-roll wheels and a built-in carrying handle, moving this upholstery cleaner is simple.
Additional Features
Shut-Off Assembly:

 A ball float wet shut-off assembly prevents water from reaching the motor.

High-Capacity Design:

 Its 1.6-gallon recover tank provides a longer runtime between emptying collected moisture and debris.

Cleaning Width:

 Features a 4-inch wide cleaning path.

Long Reach:

 This industrial floor spot cleaner is equipped with a 42-foot power cord.

Carrying Handle:

 A built-in carrying handle is designed for easy dumping.
Summary
With its wet/dry design, powerful performance, and long reach, the NaceCare GVE 370 George is an effective spot cleaner for vehicles, upholstery, and much more.
What Customers Love
Maneuverable Design:

 Lightweight and with built-in wheels, moving this cleaner from space to space is simple.

Powerful Performance:

 Features a 1.3 horsepower and delivers 100 inches of water lift.