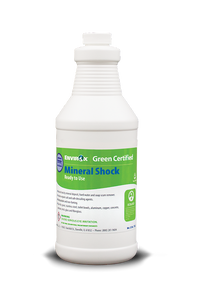 Envirox - Mineral Shock (RTU)
Contains a unique, reduced toxicity, acid-replacement technology consiting of a low pH organic salt and safe degreasing agents.
---
Use on*
Sinks, showers, tubs
Toilets, urinals
Tile
Grout
Stainless steel
Aluminum, copper, brass
Concrete, brick
Terrazzo
Porcelain
Glass, fiberglass
Cleans
Rust
Hard water scale
Lime
Soap scum
Urine salts
Ingredients
View a PDF of ingredients in compliance with the California Cleaning Product Right to Know Act
*Use Precautions: Make sure to rinse surfaces after soil is removed. Prolonged contact can cause damage. Do not use on marble or polished granite surfaces.
Product Specifications
Mineral Shock (RTU)
Fragrance
Slight/Light Scent
Packaging

12 x 32oz Bottles

Dilution Ratios

Ready-to-Use (RTU)

Concentrate pH
<1
Diluted pH
N/A - Ready To Use