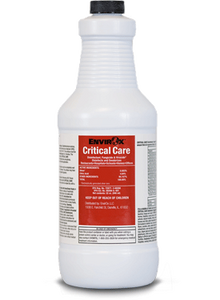 Envirox - Critical Care
Critical Care is formulated to use on critical disease transfer points. Use it in combination with H2Orange2 Concentrate 117™ multi-purpose cleaner-deodorizer-sanitizer, and eliminate elevated toxins from your cleaning and disinfecting program.
---
30 second*

 

immediate disinfection 
1-Minute COVID-19 kill§
2-Minute MRSA kill
24-hour† residual bacteria kill 
Odorless-no harsh disinfectant smell 
Disinfectant-Fungicide-Virucide 
Reduced toxicity- HMIS Health = 0 
Ready-to-use 
No sticky or dulling residue 
 
When used as directed, Critical Care™ is EPA registered to kill Pseudomonas aeruginosa, Staphylococcus aureus, Salmonella choleraesuis, Listeria monocytogenes, Escherichia Coli 0157:H7, HIV Type 1-Strain HTLV 111B, Herpes Simplex Virus Type 1 VR-733 F(1) Strain, Trichophyton mentagrophytes, Vancomycin resistant Enterococcus faecium, Methicillin resistant Staphylococcus aureus, Influenza A VR-544 Hong Kong Strain, Rhinovirus R37 VR-1147 Strain 151-1, Polio Type 2 VR-1002 Lansing Strain, Human Coronavirus, Norovirus, Avian Influenza A. 
*Organisms controlled with 30 second kill time
†When used as directed provides protection from Pseudomonas aeruginosa, Staphylococcus aureus and Salmonella enterica up to 24 hours after initial application.
§ With the emerging pathogen claim, when used as directed. Dwell time is 3 minutes. See the EPA website for more information on List N.
Ingredients
View a PDF of ingredients in compliance with the California Cleaning Product Right to Know Act
Product Specifications
Critical Care
Fragrance
None
Packaging

Case (6 quarts)

Dilution Ratios

Ready-To-Use

Concentrate pH
1.4 - 2.0 (RTU)
Diluted pH
N/A - Ready-To-Use