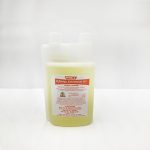 Envirox - H2Orange2 Concentrate 117 Simple Measures
Our premium, patented original formula combines cold-pressed Orange Oil and hydrogen peroxide to clean, deodorize, degrease and sanitize any water-safe surface.
---
Sanitizer
Kills 99.99% of common bacteria (Staphylococcus aureus, Salmonella enterica, Klebsiella pneumoniae, Pseudomonas aeruginosa, Streptococcus faecalis, and Escherichia coli).
Virucide*
Kills 99.9% specified viruses (Herpes Simplex Virus Type 2, Influenza A2/Japan, HBV and HIV-1).
*When used as directed, H2Orange2 Concentrate 117 is EPA registered to kill Herpes Simplex Virus Type 2, Influenza A2/Japan, HBV (Hepatitis B Virus) and HIV-1 (Human Immunodeficiency Virus).
Degreaser
Cuts grease with neutral pH. Use on any water-safe surface. Grease-free, residue-free results.
General Cleaning
Glass cleaner
Stainless steel polish and cleaner
Neutral floor cleaner
Restroom cleaner
Carpet spotter
Carpet cleaner
Food degreaser
Deodorizer
Tile & grout renovator and more!
Deodorizer
Kills odor causing bacteria. Penetrates surfaces, oxidizes and kills source of odor.
Ingredients
View a PDF of ingredients in compliance with the California Cleaning Product Right to Know Act
Product Specifications
H₂Orange₂ Concentrate 117
Fragrance
Fresh Orange
Packaging

4 x 1 Gallon

2 x 1 Gallon

6 x 32 oz

Larger pack sizes available

Dilution Ratios

10 oz/gal (1:12.8)

1 oz/gal (1:128)

Concentrate pH
4.4 ± 0.5
Diluted pH
Neutral